2014 DONA ANA COUNTY SMALL BUSINESS DEVELOPMENT CENTER CLIENT OF THE YEAR.
Acosta Hides – Sergio Acosta 2014 Star Client Small Business Development Center @Dona Ana Community College
Acosta's Hides: Sergio Acosta
Acosta's Hides, was established in 2013 with a truck, a dream and an incredible vision in the town of Mesquite, New Mexico. The owner, Sergio Acosta, has demonstrated mastery at the art of entrepreneurship by entering a market where restrictions are bewildering. This company concentrates in taking advantage of the raw materials that are present in dead cattle. The raw materials are then exported and transformed into resources that can be sold. The mission of Acosta's business is to seize every opportunity that this activity represents while contributing to making this planet a better place.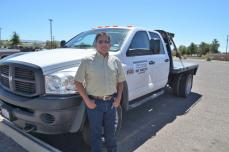 By collecting the carcasses, Acosta, in essence saves the environment by preventing dead cattle from being buried and potentially damaging the aquifers. He then takes hold of the opportunity of using every fragment of the carcasses for resources that he prepares and exports to Mexico. The hides are cleaned and sold for leather, the meat is used to make pet food, and the bones are used as components in the production of soap. "There is nothing that goes to waste" Acosta says proudly of his business and adds, "wasted materials are wasted opportunities". Acosta is one of only two persons in the state of New Mexico that has a license for this type of business. The process for obtaining this license is so rigorous it took Acosta eight years to attain the license. This not only speaks to the measure of meticulous quality and superb skill this profession requires, but also the incredible perseverance that Acosta possesses.
The relentless amount of work he does is only matched by his tenacity to accomplish it. "I love my job, there are very few things in life that give me the satisfaction that my business provides." Acosta gushes over the opportunity that he has created for himself, however, he never fails to mention that "without help of JoAnn (Garay)", Director of the DACC-SBDC center in Las Cruces, "my dreams would have never been possible." Garay helped him with guidance of his vision and aided him on the importance of recordkeeping as well as planning an objective strategy for his business. Garay also helped Acosta obtain a loan from Tierra Del Sol; which gave him the ability to purchase a truck so he could get his business in motion.
Acosta's Hides is always looking for new opportunities to grow. In fact, Acosta is planning on adding more services to his already profitable business. In the near future, Acosta has plans to hire more employees and is looking into a new business venture demonstrating his versatility and yet again outstanding vision. This new venture will differ slightly from the essence of his original business, yet it will contribute to its profitability and success. Acosta never seizes to think of new and undiscovered opportunities to devour while never under minding the ecological impact on the planet.