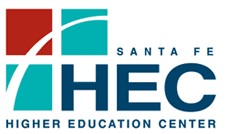 ---
SMALL BUSINESS DEVELOPMENT CENTER
AT THE SANTA FE HIGHER EDUCATION CENTER

1950 Siringo Rd.
Santa Fe, NM 87505
Due to the ongoing pandemic, the Santa Fe SBDC is open and providing services remotely as per the recommendation of our host institution, Santa Fe Community College. Therefore, our HEC Office is closed to the public until further notice. Please do not "stop by" for information, assistance, or a scheduled appointment. All scheduled meetings will be done by Zoom, phone or email as pre-arranged with you and our staff.
If you are a client already, simply contact your counselor directly. If you are not yet a client, please go to NMSBDC.ORG to request assistance.
Thanks for your patience during these unpredictable times. We look forward to resuming normal operations as soon as possible. Please don't hesitate to reach out if you have any questions or concerns.
Be Well,
Brian & Debbie
Our Workshops (https://nmsbdc.ecenterdirect.com/events?)
Our YouTube Channel with 100+ trainings (https://www.youtube.com/channel/UCI45CTjjJG_q0EayS9JlJyA)
SANTA FE SMALL BUSINESS DEVELOPMENT CENTER
The Santa Fe SBDC is conveniently located at the new Santa Fe Higher Education Center (HEC) on Siringo Road in Santa Fe.
The Santa Fe Small Business Development Center  (SBDC) serves both startup and existing businesses with no cost business consulting and training in Santa Fe County. With expertise in small business planning, marketing and financial management, our services are without charge and strictly confidetial. We are one of 18 centers in the New Mexico Small Business Development Center (NMSBDC) Network, which also provides assistance with govenrnment contracting throught the PTAC program, international trade throught the IBA program, as well as technology comeercialization/Intellectual Property assistance through our TCA program. The NMSBDC is a fully accreditted member of th enational organization America's SBDC. Funding for this program is provided by the New Mexico State Legislature and the U.S. Small Business Administration (SBA). 
Please call to schedule an appointment.
Start, Grow and Be Profitable at the Santa Fe SBDC

Contact Brian: brian.duboff@sfcc.edu
1-855-99-NMHIX
---
505 247-3671 – 2340 Alamo Ave. SE 2nd Floor, Albuquerque, NM 87106
---
800-508-7624 – 2000 Zearing Ave NW, Albuquerque NM 87104
---
1-888-282-9232 – 6500 Jefferson NE Suite 200, Albuquerque Nm 87109
---
505-989-5337 – info@financenewmexico.org
---
650-529-4639 – 341 E. Alameda St., Santa Fe, NM 87501 info@culturalentrepreneur.org
---
575-589-2200 – 113 Sundance Ct., Santa Teresa, Nm 88001
---
505-243-3196 – 423 Iron Ave SW, Albuquerque, Nm 87102
---
ISO 9001 Certification Training
---
(505) 224-5965 – 6401 S. Richards Ave., Santa Fe, Nm 87508
---
505-227-1086 – 317 Commercial St. NE, Albuquerque, NM 87102
---
505-820-1226
---
505-820-1226 – 706 Bond Street, Espanola, Nm 87532 – info@rdcnm.org
---
505-424-1140 – 3900 Paseo Del Sol, Santa Fe, Nm 87507
---
505-988-3279 – 1644 St. Michaels Drive, Santa Fe, Nm 87505 info@santafechamber.com
---
505-988-9715 – 501 Halona St. Santa Fe, Nm 87505 – foundation@SantaFeCF.org
---
200 Lincoln Ave, Santa Fe, Nm 87501 505-955-6949
---
505-473-1885
---
505-988-6302 – 120 Federal Place, Santa Fe, Nm 87501 – santafescore@gmail.com
---
505-217-2492 – 318 Isleta Blvd., Albuquerque, NM 87105 – info@streetfoodinstitute.org
---
500 Gold SW Suite 11301, Albuquerque, Nm 87102
---
505-474-6556 – 3900 Paseo del Sol Suite 361, Santa Fe, Nm 87507
---