Je L'Adore!
2014 ALBUQUERQUE SMALL BUSINESS DEVELOPMENT CENTER CLIENT OF THE YEAR
"With the right vision, determination, support, and a leap of faith, my dream of owning a boutique came true in March 2013 and Je L'adore! was born," says Tammy Rorem.
Je L'adore!
Erik and Tammy Rorem are the proud owners of Je L'adore!, an inspiring boutique filled with authentic French décor and beautiful, one-of-a-kind vintage décor items with shabby chic flair and European style mixed with Tammy's own unique style of decorating. Located in the Northeast Heights of Albuquerque in the Hoffmantown Shopping Center, Je L'adore! has been a huge success since opening its doors one and a half years ago.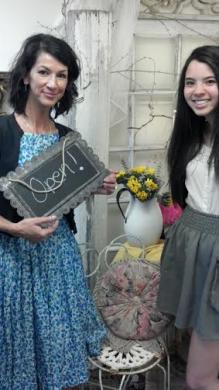 Exclusive to New Mexico, there is nothing quite like Je L'adore! ("I love it" in French). Je L'adore! is not just another boutique, it's an experience that engages all the senses from the moment one walks in the door. This unique experience facilitates conversation and genuine friendships in addition to finding beautiful gifts and vintage one-of-a-kind décor items, not common to New Mexico. Not only has Je L'adore! been embraced by the local French community, but numerous customers have also likened Je L'adore! to that of entering an antique shop in France…without leaving Albuquerque! What Je L'adore! offers is an inviting atmosphere where customers, designers, and friends alike come to find inspiration, original and beautiful displays, and a wonderful collection of treasures and décor acquired from all over including France, under one roof.
Tammy attended a short introductory business seminar at the Albuquerque SBDC taught by Ray Garcia, which put her on a focused path to open the store. Since then, Ray has helped with identifying the fundamentals of operating a business, but most importantly he helped to clarify and better define the vision, the target customer, how to reach these customers, and how to get them in the store. Ray continues to offer support and guidance to ensure success. Tammy and Erik would like to express their gratitude for the support and guidance from the Albuquerque SBDC and the honor of being selected as the SBDC Success Client for 2014.
Currently, Je L'adore! is busting at the seams with growth, with expectations to expand in size and further the vision moving into 2015.