2014 LOS LUNAS SMALL BUSINESS DEVELOPMENT CENTER CLIENT OF THE YEAR.
CONGRATULATIONS James Holbrook of DNS LLC.
Digital Network Services (DNS) was started in December, 2010 by James Holbrook and is located at 715 South Main St. Belen, NM. Its primary service is the installation of telecommunication infrastructures, which includes fiber optic central office, data center, cell sites, and power related equipment for the major communication providers throughout the United States. In addition, DNS has teamed with UNM – Valencia to provide a Certified Fiber Optics Technician program. This program has graduated over 100 trainees in six months, many of which are employed through DNS.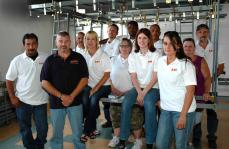 The company has grown from the 2010 beginning with James as the sole employee to a present staff of 14 full-time employees and 10 individual contractors. The 2013 revenue is projected to be $1.5 million. DNS currently has contracts in 12 states.
James has said that the information and advice he has received from the SBDC in Los Lunas has been most valuable in terms of his identifying the internal strengths and weaknesses of his company as well as offering alternatives to problems encountered with clients, while pointing out marketing opportunities that may have been missed. A specific benefit has been the on-going education and advice regarding financial operations and management.
James can be reached at 505-250-9986