2014 LUNA COUNTY SMALL BUSINESS CENTER CLIENT OF THE YEAR
MARTINEZ & SONS PROCESSING, LAS VEGAS, NEW MEXICO
Owner: Tim Martinez and Timoteo (Teo) Martinez
Type of Business: Meat Processing
Timoteo (Teo) Martinez grew up with a good work ethic working on his family ranch in Wagon Mound, NM. He explored the need for a local meat processing plant by talking to other ranchers in the area and having long conversations with his father Tim Martinez, who is a livestock inspector. Teo gained the support of his wife Latania for his plan. With both husband and wife on board with starting the plant, Teo asked his father to be a principal owner to form Martinez and Sons Processing LLC.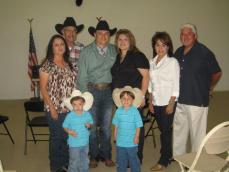 During counseling sessions with staff at the Las Vegas SBDC, the Martinez's learned about loan programs and how to develop a business plan that would be used to determine the feasibility of the project and as a financial proposal. They completed a business plan and approached several banks in the area; they decided to go with Community 1st Bank in Las Vegas. The financial proposal was also submitted and approved by the SBA's 504 loan program. Additional funding sources for the project include grants from the state's Economic Development Department for a water recycling system and to train employees. The USDA Rural Development Department provided funding for equipment. A ground breaking ceremony was held on April 19, 2012 with many dignitaries and supporters in attendance.
The construction of the building is on schedule and the grand opening is on target with a planned date of November 1, 2012. The first employee to be hired will be Teo's brother Travis Martinez, who will be the facilities manager. The company estimates between 50 – 60 direct and indirect jobs will be created in the agriculture industry as a result of the opening of the meat processing plant.